Hey, I'm jumping in on Mama Style - ch-ch-check out some other stylish mamacita's here.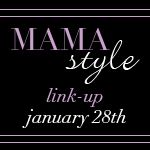 What WAS I thinking Wednesday? Well, I'll tell you, because these are the random thoughts that popped into my head in the last day or two.
1. DAYUM I love Bonnie Raitt. I know, I know, you're thinking - 1987 called and said uh, Shannan, you're about 25 years tardy on this one. I don't care. I heard a Bonnie Raitt song playing in the background when I called someone at work, and immediately created a Pandora station for her. Her voice is sublime, plus it has that blues rock soul that I love SO frigging much. Eric Clapton, however, does NOT have a place on my Bonnie Raitt station. Move along, Eric. You can stay, Joe Cocker.
2. I used to be TERRIFIED of the band KISS (and specifically, Gene Simmons, if you MUST know). Who knew when I was in the third grade, sitting in Kim Moore's bedroom listening to Beth on the record player and trying not to look at the album cover from whence it came that one day years later I would be wearing a KISS tee? Not me, I can tell you that much for certain.
3. I swear, before too long I will be able to secure a job as an animator or cartoonist, as many pictures as I've drawn of Minnie Mouse, Hello Kitty, and Clarisse from Rudolph the Red Nosed Reindeer. I'm going to start saving them in a portfolio.
4. I believe we have established that I cannot stay awake past about 8:45 at night. Therefore, Dear Hubby, I don't think it is necessary for you to make comments whenever I start nodding my head whilst watching TV. Are you sleeping??? You're sleeping, aren't you?! Do you want to lay on the couch? You just nodded off!! Oh really? I had no idea! Thanks for the update, Sleep Doc.
5. Adrienne Maloof is a big dull dud who needs to use some of her millions to buy a sense of humor. And some new hurr.
asdfasdf......OOPS! I just nodded off again. Me go seepy now. Night night....
Jacket: Target
Tee: Zara
Pants: Target
Boots: Libby Edelman, TJ Maxx
Necklace: Jennifer Zeuner
Merci!
Shan